Omnimesh
Standard-based smart metering solution
Delivered as part of CyanConnode's Omni IoT platform, Omnimesh for utilities provides electricity metering capability. Using industry-recognised open standards, IPv6 6LoWPAN narrowband RF mesh technology Omnimesh is a scalable, robust system that provides cost-effective communication to support Smart Grid.
Omnimesh Smart Metering enables utilities to operate innovative commercial models, improve customer experience and billing, rapidly locate and resolve outages, reduce distribution issues and losses, and manage demand in real time during peak periods.
Choosing Omnimesh future-proofs utilities investments; existing applications can scale, and new applications can be deployed over the same infrastructure.
Omnimesh - the features
Supports proven standards: DLMS/COSEM, IEEE 802.15.4, IPv6 6LoWPAN, TLS/DTLS
Designed to support global and country-specific AMI standards - Bureau of Indian Standards IS 15959 and IS6444 supported and available
Meter manufacture and protocol agnostic framework provides interoperability
Application Programme Interface (API) enables rapid integration while reducing complexity and costs
Resilient, self-forming, self-healing mesh networks maximise data transfer while minimising human effort and error
Build-as-you-go networks reduce CAPEX and total cost of ownership
Omnimesh - the benefits
Gather complete, accurate and timely customer metering data to support loss reduction programmes, reduce energy costs by maximising billing revenues and increase power quality and customer experience
Improve energy distribution reliability and resilience by rapidly identifying and responding to peaks in demand, quickly locating and resolving faults and implementing real time controls to prevent minor faults developing into wider outages
Maximises smart grid investment by extending existing and new command and control capabilities over dedicated communication networks
Reduce peak demand by driving consumer behaviour through real time pricing
CyanConnode's IP-based Omnimesh for utilities is a robust, turnkey solution for smart metering
Meeting a range of needs
CyanConnode's Omnimesh solution has been designed as a highly versatile networking solution. Utilities companies will find its open standard architecture highly effective for smart metering and will benefit from its flexibility and scalability.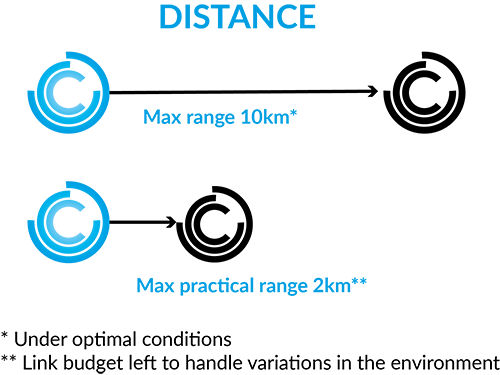 Range
Using narrowband at sub-GHz frequencies, Omnimesh offers long range communications using the current reference design. With a maximal distance of 10 km and a practical distance of 2 km, meaning link budget left for changes in the environment. CyanConnode's Omnimesh uses sub-GHz frequencies and highly sensitive radios to penetrate buildings more easily than cellular networks.
Secure
Omnimesh provides standards-based, critical infrastructure grade security that comprises Public Key Infrastructure certificate and certificate management, Key Storage in Hardware Security Modules and state-of the-art cryptography that helps ensure confidentiality, integrity and availability of business data and functions.
Ease of integration and deployment
Omnimesh enables rapid integration through API or secure connection to in-field SCADA system, which supports large scale networks (of Omnimesh-based meters) to be deployed efficiently and robustly, with zero commissioning and minimal human intervention.