6LoWPAN
Standard-based IoT network
Global urbanisation is driving demand for energy, water, transport, lighting and other essential services. Cost control, security and sustainability are key issues. Therefore, governments, city authorities and businesses are all looking to find ways of achieving more efficient management of devices such as smart meters and street lights.
Using industry-recognised open standards, our IPv6 6LoWPAN solution has been specially designed to deliver single and multi-application networking, enabling cost-effective urban or rural communications for current and future applications and devices.
Robust, versatile and highly efficient, CyanConnode's 6LoWPAN enables each device to use several different paths to communicate. A single device (e.g. a smart meter) can be connected directly or the network can be deployed in a shared, multi-application, multi-type device IoT network.
Narrowband RF mesh technology makes a 6LoWPAN network more reliable and geographically widespread than a cellular network. It can either be deployed as the main network or complement other wide area networks such as a cellular, to connect hard to reach devices.
6LoWPAN - the offerings:
Smart Metering: Data can be sent transparently to your Head End / MDM or let us take care of data collection and provide easy to use web services from the Omnimesh HES.
Smart Lighting: 6LoWPAN can be integrated into a street light to enable communication to a street light management application.
IoT Network: 6LoWPAN can be deployed as a general purpose IoT network ready to connect millions of devices such as street lights, etc.
Mobile Network Extension: 6LoWPAN can extend the cellular networks to lower the total cost of ownership and access hard to reach devices.
6LoWPAN - the benefits
CyanConnode's 6LoWPAN is a cost-effective, easily scalable, end-to-end multi-application solution that's self-configuring and self-healing. Easy to deploy with minimal infrastructure or maintenance requirements, it offers a total cost of ownership that delivers excellent value for money. Plus, its reliable future-proofing, being based on IPv6, means you won't incur huge upgrade costs in years to come.
Low operational costs. No need to invest in external equipment such as repeaters, filters or concentrators. Fewer components means easier management.
Interoperability. 6LoWPAN is configured using IP, standards-based addressing of devices. Therefore, it's compatible with most existing and future IoT technology.
Open partner ecosystem. Customers can source the device, communication and application layer independently to ensure competitive pricing and quality control.
CyanConnode's IP-based 6LoWPAN solution has been specially designed to deliver multi-application networking, enabling cost-effective citywide communications.
Meeting a range of needs
CyanConnode's 6LoWPAN solution has been designed as a highly versatile IoT networking solution, meeting the needs of a wide range of customers. Utilities companies will find its open standard architecture highly effective for smart metering. Customers requiring general purpose IoT networks will benefit from its flexibility and scalability.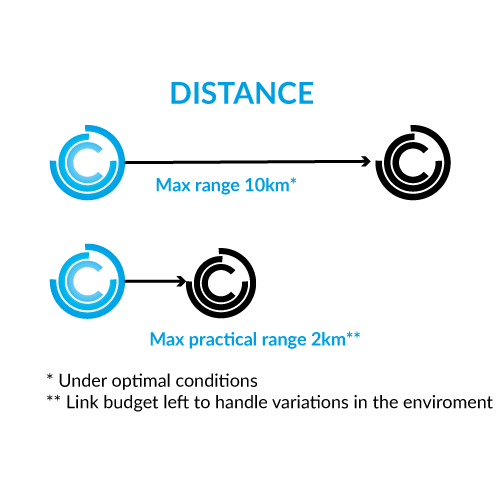 Range
Using narrowband at sub-GHz frequencies, 6LoWPAN offers long range communications using the current reference design. With a maximal distance of 10 km and a practical distance of 2 km, meaning link budget left for changes in the environment. CyanConnode's 6LoWPAN uses sub-GHz frequencies and highly sensitive radios to penetrate buildings more easily than cellular networks.